Provider-Friendly CDI
The time to "tap the shoulder" of a provider about clinical documentation improvement is when their head is in the case – when they are looking at the subject patient in the EMR. The IllumiCare Ribbon knows when that opportunity exists and serves up the query, unobtrusively in workflow.
This gives providers the best of both worlds – queries that have been curated by the CDI team, asked at a time most convenient. The CDI app makes it easy for providers to meet administrative burdens while maintaining focus on their primary task – patient care.
Closed-Loop and Offline
Given the time sensitive nature of CDI queries, you don't want them buried in providers' inboxes. The CDI app gives the CDI team a flexible and convenient way to formulate sophisticated queries while simplifying provider responses. Providers are "nudged" about CDI queries when that patient is in context in the EMR.
While you want CDI easily accessible for providers, not all queries are appropriate to be in the medical record, where they can now be included in the patient portal and elsewhere. As these are administrative queries, they should remain outside of the medical record. Because the IllumiCare Ribbon is a separate application not directly integrated with the EMR, conversations within it remain distinct.
Convenient
Simple query creation
Providers see in workflow
Timely
Nudge when provider's head is in the case
Views / responses tracked in real-time
Effective
Communicate outside of the formal record
Closed loop tracking / reporting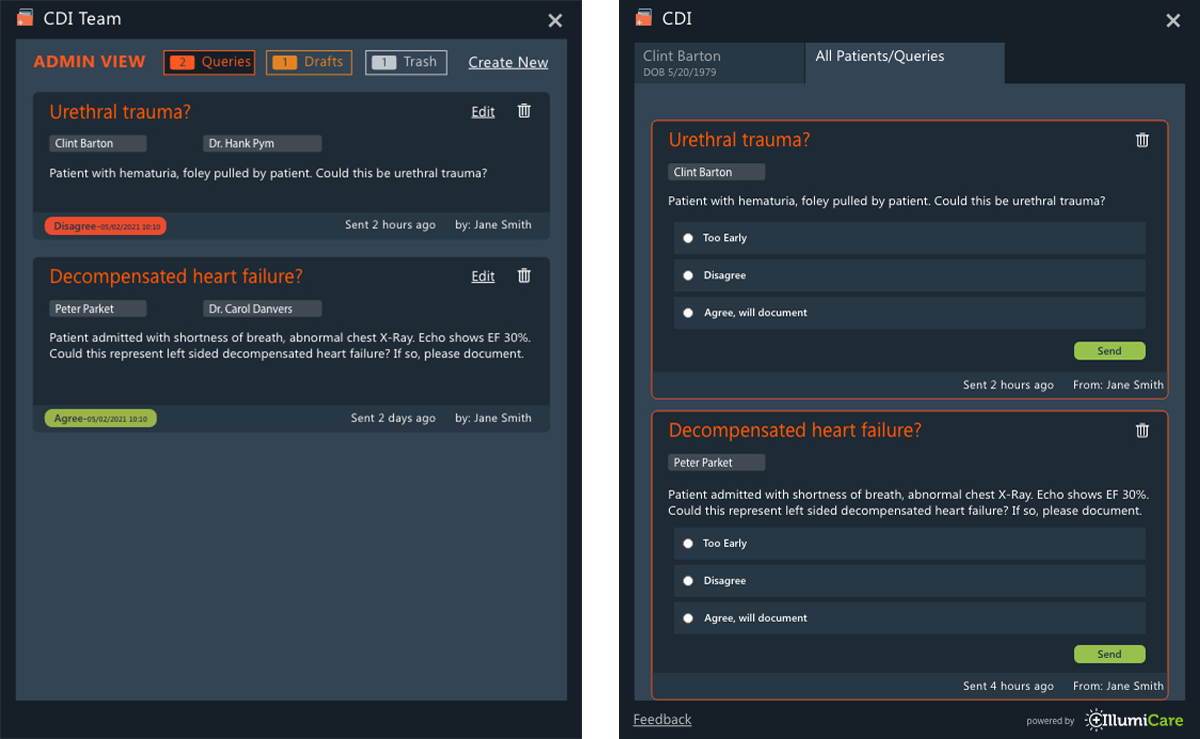 Simple and in-context. Answering CDI queries is least disruptive when it is easy to respond to a question asked about the current patient.
Check Out These Other IllumiCare apps