Remove Barriers to Discharge
Reduction in the number of inpatient days results in decreased risk of infection and medication side effects and increased hospital profit with more efficient bed management (Baek et al., 2018). But, with providers facing a mental deluge every day, opportunities for an earlier discharge can slip.
The LOS app compiles the clinical barriers to discharge, making it easy for providers to tick down the list if a patient is ready to go. By organizing and front-facing this key information, we make it easier for providers to do what's in the best interest of the patient and hospital.
Stay on Track for GMLOS
The LOS App displays the current length of stay versus the CMS Geometric Mean Length of Stay (GMLOS) and number of clinical barriers to discharge right on the app icon. The app color even changes as patients approach or exceed GMLOS. These give front-facing visual clues when providers should start planning for discharge.
Clinicians can even add tasks for Case Management that are pertinent to discharge or readmission (without making them part of the formal record). Case Managers see the same app when rounding and can acknowledge tasks as completed. This also facilitates multi-disciplinary rounds. Anyone on the care team can see the history of app views and changes.
Clinical Barriers
Peripheral devices
Abnormal labs
IV meds or opioids
GMLOS Comparison
Current LOS vs GMLOS
Visual indicator as approach or exceed GMLOS
Number of clinical barriers on the app icon
Care Coordination
Communicate outside of the formal record
Add tasks relevant to discharge or readmission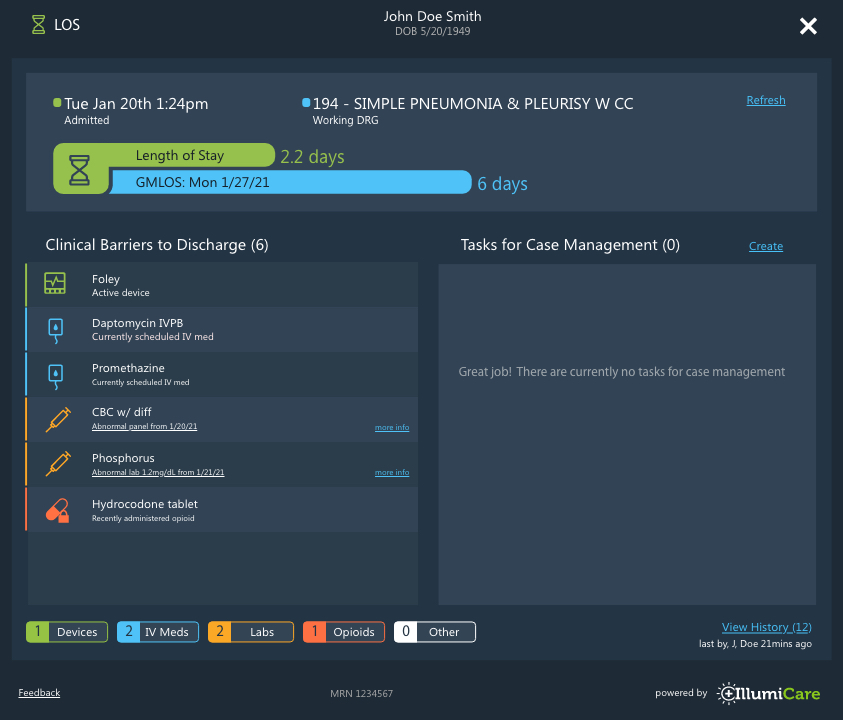 The LOS app organizes information in a way that decreases cognitive load and makes it easier for providers to reduce length of stay.
Check Out These Other IllumiCare apps