Easily connect patients to local trials.
The Trials App nudges providers at point of care when their patient is a good candidate for local clinical trials and automates the handoff to the study team. It also keeps track of previous referrals, so that providers know the enrollment status of their patients.
Give coordinators control of the criteria and process.
Coordinators have control over referral criteria and point of care notifications without EMR programming. They have one view of all patients matching their referral criteria, including those who have been referred in by providers. They can track key information and activity as patients move through the enrollment process. Reports and the ability to prioritize studies give insight and control to a complex process.
Improve Coordinator access
In the Coordinator's view, the study team would see the new patient lead in their follow up column, with the referring provider and key information about the patient.
Tracking and Referrals
The study team can track the patient progress, ultimately to an Enrolled status and into the CTMS.
Coordinators control the referral criteria within this process.
Add New Trials
New trials can be imported from clinicaltrials.gov or local PI lead trials can be manually entered.
As new criteria are added, the coordinator can see the effect of the filter on the health system population.
Trials App Can Boost Physician Referrals
A survey of almost 6,000 people with cancer found that 85% were either unaware or unsure that participation in clinical trials was an option, though about 75% of these people said they would have been willing to enroll had they known it was possible.
Source: Harris Interactive Survey, 2001
In a 2005 survey of nearly 2,000 cancer patients, 73% of those who joined a clinical trial said they did so because of their health care provider's awareness of clinical trials.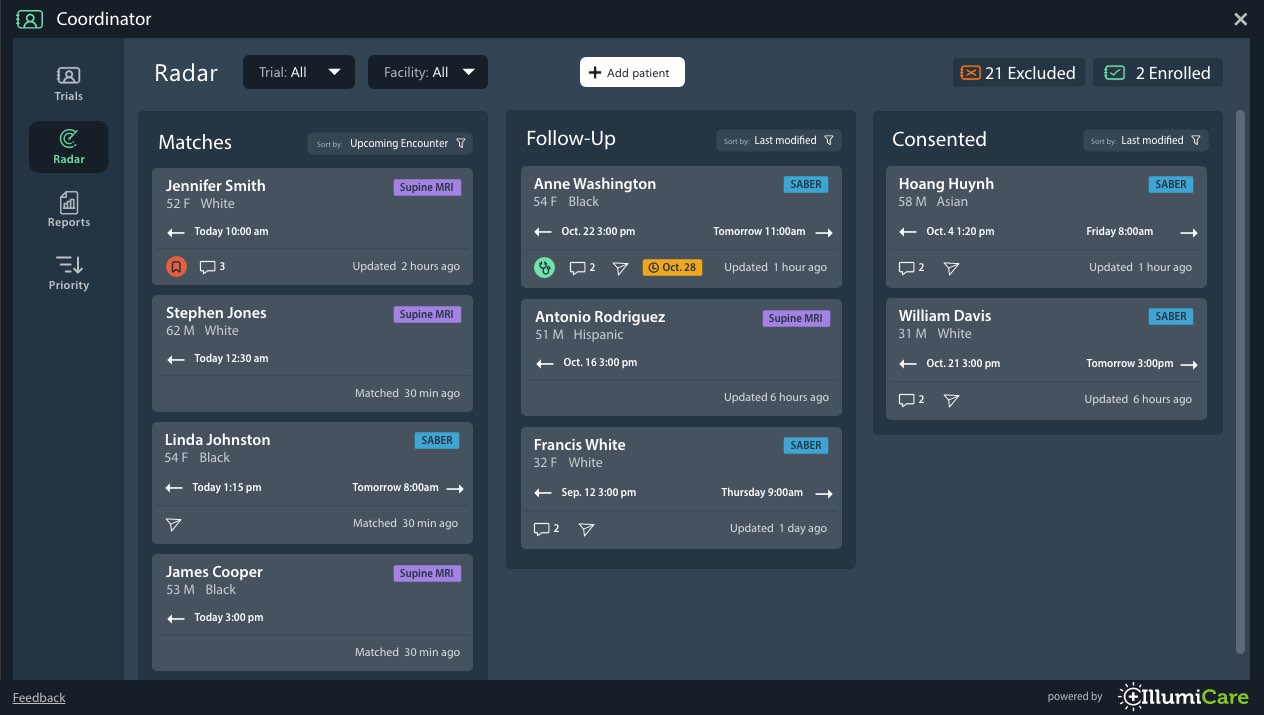 Coordinators see all of the patients within the health system that match criteria, not just those referred by providers, and can filter that list by time, location, etc. Coordinators control the referral criteria within this process.
Check Out These Other IllumiCare apps