A Prescription for Physician Burnout
Hunting for and handwriting data is not want you want your providers doing every day. It's menial and takes time away from thinking and acting. WHIRL™ prints out a rounding list with the patients, content and format personalized for each clinician – saving time and frustration.
The EMR…on paper…in your pocket.
WHIRL compresses patient data onto an 8 x 11 printed page into an efficient clinical overview. WHIRL lists may be created & shared with colleagues as desired. For each patient, users can see handoff summary/plan, vitals, diet, code status, I/Os, lines/drains/airway, labs, meds, imaging, procedures, etc.
The IllumiCare Ribbon provides a single sign-on launch from Epic, and the WHIRL Rounding List leverages Epic's FHIR and private APIs to collect the clinical data that will be featured on the rounding document. To view the WHIRL listing in the Epic App Orchard, click here.
Patient Care Implications
30 minutes per day savings for chart review

Time lost clicking through multiple EMR screens to find relevant patent data could be better spent:

Triaging patients
Evaluating steps needed for timely patient discharges
Physician Satisfaction
Giving clinicians back the time lost clicking and copying EMR data creates:

Study-validated increases in workplace satisfaction
Optimize Epic Lists
Combine or append Epic lists to custom WHIRL lists
Import WHIRL list settings from existing lists or restore altered settings to their default state
Add text or images to printed rounding lists
Hospital Tested ….Physician Adopted
The WHIRL first went "viral" at Wake Forest Baptist Health, an academic medical center located in North Carolina. Data suggests that using WHIRL:
Decreases chart review time
Improves provider satisfaction and
improves accuracy of information
Time saved by WHIRL can be repurposed to physician education, communication between healthcare providers, and direct patient care.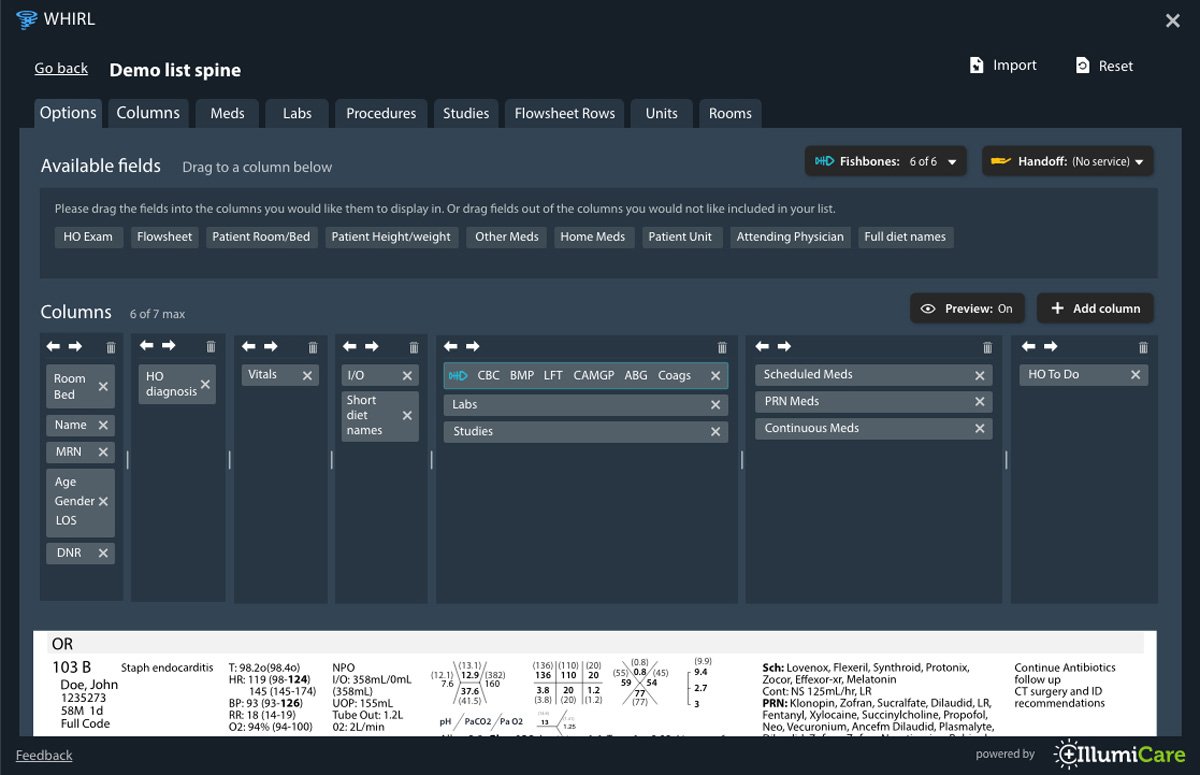 Each user can customize which data elements are displayed (and can save multiple views). For many data elements, each user can also customize the name and level of detail. Paper remains the most efficient way to quickly reference information and jot down notes. WHIRL reduces the data you need from Epic into a handy, printed rounding aid.