Provider Cost Attribution and Insights
IllumiCare knows your cost (not charge) of every med/lab/rad order, the ordering provider, their specialty and the acuity of the patient. We attribute costs to each responsible provider (not just to the admitting or discharging provider). And, it all happens in real-time.
What emerges from this analysis is a view of practice pattern variation among providers of the same type that drives over-utilization and higher costs. This data is directly available to you via upload into your existing Decision Support / BI system, or managers and leaders can directly interact with it in an easy-to-use tool we call Spotlight.
From the Macro to the Micro View
Spotlight answers four main questions:
Who is it that drives excess cost and utilization and why?
What are the biggest opportunities for improvement, and do they require a targeted or broad intervention?
Who is using the IllumiCare Ribbon and how?
Is our risk-adjusted cost per admission changing and why?
The answers to these questions are made accessible in a web-based tool that requires no special training. It is intended for managers and leaders to easily explore their own data. Of course, IllumiCare is a comprehensive service that includes training and guided data exploration – so you never have to feel separated from the insights that can drive operational improvements.
Who?
Which specialities account for
the biggest variation?
Which providers within each specialty are outliers
(risk-adjusted)?

Which providers are the best stewards of resources?
What?
What are the biggest
opportunities for cost improvement?
What specific behaviors drive
the overspending of outliers (risk-adjusted)?
In what DRGs do we struggle
against internal benchmarks and why?
Where?
Which facilities in our system are over/under performing?
Where is IllumiCare changing
behaviors?
Where are we seeing lower
cost as a result?
Insights That Drive Real Savings
"The Spotlight app has been an enormously useful tool to help us track provider spending down to a micro level and make adjustments where necessary. In fact, this tool has already enabled us to reduce admissions by an average of $100 per patient after using it for only six months."
– Bonny Chen, Chief Health Information Officer at AMITA Health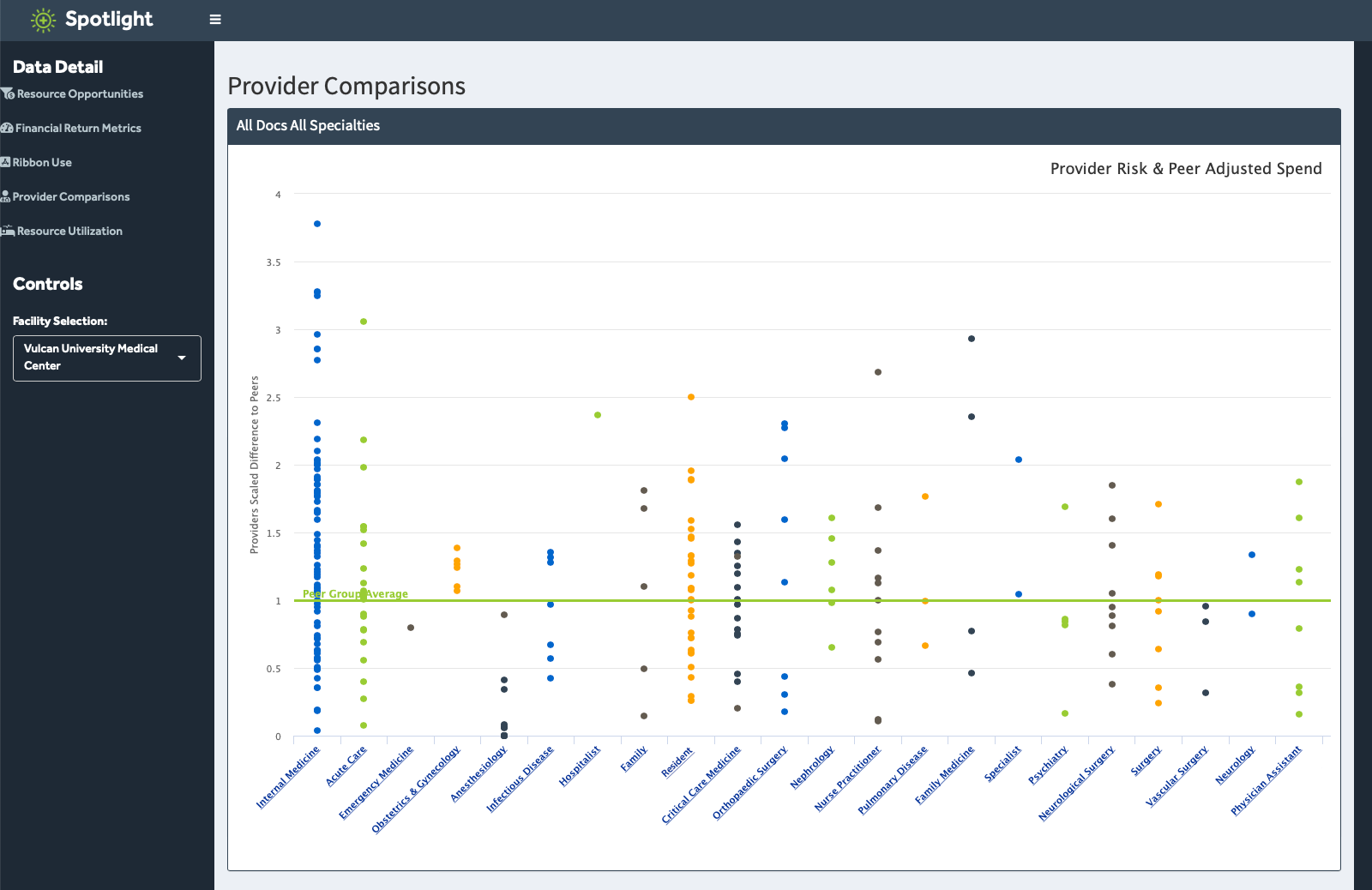 The leading business intelligence tools (Tableau, Power BI, etc.) are powerful and flexible, but they require specialized knowledge to use. Spotlight requires no data connectors, field mapping, etc. Insights are made available to your managers and leaders in powerful graphics, and everything is driven by mouse clicks.
Check Out These Other IllumiCare apps