EMR-Agnostic Care & Coding Gaps in Workflow.
18 EMRs – no problem! Many ACOs and other risk-based entities want to influence providers at the point of care – care gaps, coding gaps, recent encounters, formulary, etc. But, integrating into many different EMRs across many community practices is a challenge.
The IllumiCare Ribbon is an EMR-agnostic tool that can be painlessly deployed across a diverse provider population and "nudge" users in their clinical workflow. The best time to get care and coding gaps closed is when the patient is in front of the provider. The Gaps app makes this easy and efficient.
A Simple Checklist of What Needs to Get Done.
If you want people to do the right thing, make as easy as possible for them to do it.
Primary care providers do not have a complete view of patient activity in their own medical records. The ACO/payer knows better what care and coding gaps exist and need to be closed by a certain date. Participating providers just want a simple checklist of what needs to be done by when, presented right in their workflow and without having to hunt for it. The Gaps app is just what the doctor ordered.
EMR-Agnostic
Deploy across a diverse provider base
No direct EMR integration or fees
Consistent look and feel
Provider Friendly
Auto-install & update
Patented method of automatically maintaining patient context with the EMR
Nudges users in their workflow; they don't have to hunt for your data
Real-Time
Give providers the most current information
No more than minutes delay from analysis to point-of-care insights
Receive timely feedback to direct additional chart review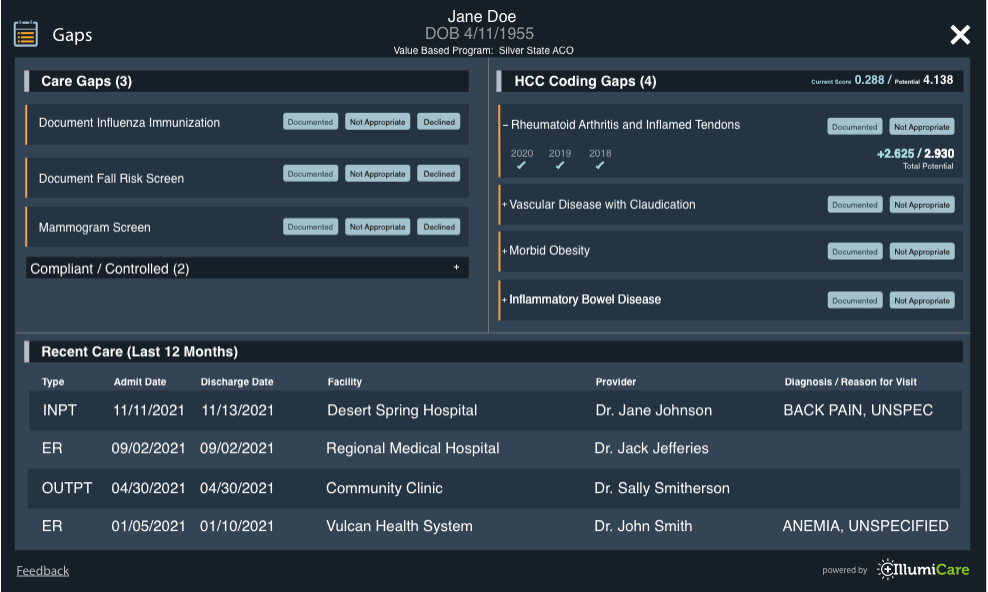 The Gaps app automatically checks the patient being viewed in the EMR against the ACO quality and risk measures. If the patient is not in the ACO population, the icon checklist is blank. If the patient is in the ACO and no care or coding gaps exist, the icon has a green check. If care or coding gaps exist, the icon checklist is orange and has a badge indicating the number of gaps. Clicking on the app icon reveals the gaps.
Check Out These Other IllumiCare apps